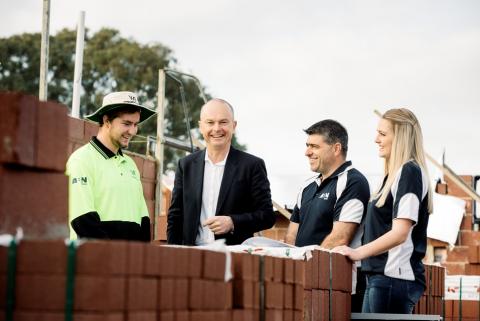 Dale Alcock's innovative approach to training apprentices has propelled ABN Group into the international spotlight.
The builder's apprenticeship program was profiled in a major report on the issue compiled by the Organisation for Economic Co-operation and Development and the International Labor Organisation.
It featured as a case study in the Engaging Employers in Apprenticeship Opportunities report. ABN Group boasts an 80 per cent retention rate of its tradespeople six months after graduation and 60 per cent two years after graduation. And 70 per cent of each intake complete their apprenticeship program — far above industry averages.
Its success with apprenticeships comes after the ABN Group's set up its own program, ABN Training, in 2004. ABN Training was set up in the midst of the WA mining boom when it was difficult to source quality skilled people, but it remains just as important today.
Since that time, more than 1000 people have gone through the program, making ABN Group Australia's biggest provider of building industry apprentices.
ABN Training manager Loris Moriconi said the firm wanted to ensure people stayed with the company, its subcontractors, or at least within the building industry over the longer term.
"The broad aim was to guarantee future access to work for tradespeople who meet the ABN Group's standard of skills and align with our organisational culture," he said.
ABN Group Managing Director Dale Alcock said he is extremely proud of what ABN Training have created and continue to achieve.
"This is a program that provides young people with a great opportunity, trade skills and life skills" he said.
ABN Training implements a ratio of one training manager to approximately 25 apprentices — far above the industry average of one manager to 50. The main role of the
training manager is to train and mentor the apprentices.
The ABN Group program also aims to provide opportunities for mature-aged workers (21 years or older) which are under represented in the Australian
apprenticeship system. More than a third of apprentices hired by the ABN Group between 2012 and 2015 were mature-aged.