HIA APPRENTICE AWARDS 2020
Congratulations to ABN Training and our apprentices for an extraordinary result at the 2020 HIA Apprentice Awards, held on Saturday night.
The awards are testament to the dedication and hard work demonstrated by our apprentices across the ABN Group. Your quality of work and commitment is outstanding.
Thank you and congratulations also to the ABN Training team for their ongoing commitment to ensure our apprentices are provided with the best support and training to develop into top-quality tradespeople in WA.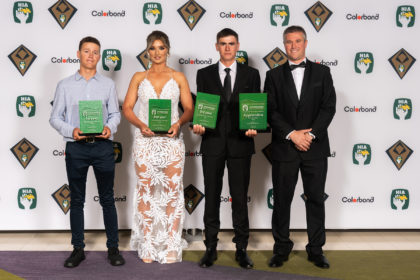 Congratulations to the winning apprentices of 2020:
Karl Baird (DAH) 
Best 1st Year Carpenter
Best Overall 1st Year Apprentice
Monique Juratovac (CEL)
Best 2nd Year Bricklayer
Judges Excellence in Endeavor Award
Conor Murphy (DAHSW)
Best 3rd Year Bricklayer
Best Overall 3rd Year Apprentice
HIA Apprentice of the Year 2020
Aaron Perkins (Hi-Point)
Best 3rd Year Roof Plumber
Ben Taylor (Ceiling Solutions)
Best 3rd Year Wall and Ceiling Liner
Reece Jarnicki (Hi-Point)
Best 1st Year Roof Plumber
Frank Messina (Concretus)
Best 2nd Year Concreting Apprentice
Faisal Helmy (HBC)
Best 3rd Year Painting and Decorating Apprentice
Bradley Waters (WBN)
Best 3rd Year Plastering Apprentice
Matthew Atkinson (WBN)
Best 3rd Year Wall and Floor Tiling Apprentice
AWCI WA Awards of Excellence 2020
Congratulations also to another wonderful apprentice, Ben Taylor, for taking out Apprentice of the Year at the Association of Wall and Ceiling Industries WA Awards of Excellence 2020, held on Friday night.
Congratulations Ben Taylor and thank you for your great work as an apprentice and a tradesperson.
Ben Taylor (Ceiling Solutions)
AWCI Apprentice of the Year 2020