Dale Alcock Homes South West
Established in 1995, Dale Alcock Homes South West is known as the South West's leading residential home builder.
Its reputation is built on outstanding local knowledge, quality craftsmanship and superior customer service, resulting in Dale Alcock Homes South West dominating the first, second and third homebuyer markets in the region.
Building homes from the Dale Alcock Homes, Celebration Homes and Homebuyers Centre design portfolios, stretching from Harvey in the north to Augusta in the south, Dale Alcock Homes South West's designs are backed by a team of over 70 experienced staff who are there to help every step of the way, from choosing bricks until final handover.
To further meet the needs of South West customers, Developments by Dale Alcock also provides solutions for duplex, triplex, multi-unit and granny flat developments across the region.
Whether you're looking to build a new home, buy a house and land package, or develop, Dale Alcock Homes South West can help.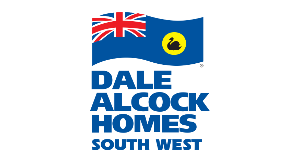 Contact
Corner Blair & Hayes Street, Bunbury WA 6293
T: 08 9792 0555
Builders Registration BC5409